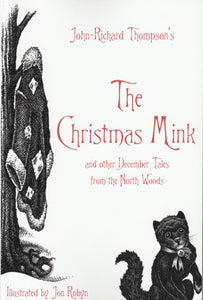 Rascal Press
The Christmas Mink and other December Tales from the North Woods
As the title suggests, this is a Christmas-themed book. If you are a Christmas curmudgeon (and, aren't we all after a certain age?) this book of funny and touching yarns may yet put a smile on your face.
The illustrations by Jon Robyn are terrific. You can smell the woodsmoke and pine wreaths.
This is a wonderful book. Yes, you can get it on Amazon, but we are fans of John-Richard Thompson and carry this book so we can read it to you at fairs and events.
It'll be a classic some day. So read it before Hollywood puts the pictures in your mind for you.
Rascal Press, New York. Second edition. 
Dimensions: 6" x 9"
Paperback, perfect bound
Legible spine? Yes.
---
More from this collection