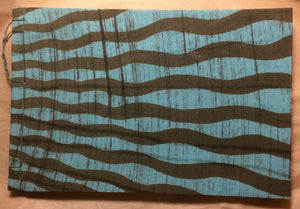 Charlene Matthews
Artist Blank Book (blue and olive) with Japanese Binding by Charlene Matthews
Artist Blank Book (blue and olive) with Japanese Binding (2018) by Charlene Matthews has paper backed cloth covers of vintage Mexican cotton skirt fabric (blue and olive).
W 9" x H 6" x ½"
We are thrilled and honored to offer unique, handmade, and absolutely beautiful artworks by Los Angeles based book artist and master bookbinder Charlene Matthews.
Matthews is an influential part of the Los Angeles artist book scene, where she works and teaches. Her work has been exhibited in venues such as the Craft and Folk Art Museum in Los Angeles. She builds books for Lari Pittman's book art (Huntington Library, Regen Projects). And she has lovingly restored and repaired countless book treasures.
A true piece of Los Angeles artist book history.
Institutions that hold Matthews' work include: Colorado College, Getty Research Institute, Mary Norton Clapp Library (Occidental College Library), Stewart Memorial Library (Coe College), University of California, Irvine, University of California, San Diego, University of New Mexico, University of Washington Libraries, USC Libraries/University of Southern California.
---
More from this collection