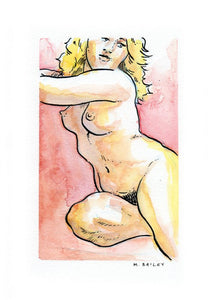 Michael Patrick Bailey
Little Lady #10 (framed original)
Michael Patrick Bailey is a busy artist, filmmaker, illustrator, writer in Los Angeles.
The Little Lady series shows off his sense of line work, visual texture, coloring, and movement in a series of beautiful nude figure studies.
One-of-a-kind and original, this pint-size gal is 5"x7" on Strathmore 400 Series Mixed Media Paper, rendered in ink and gouache.
---
More from this collection