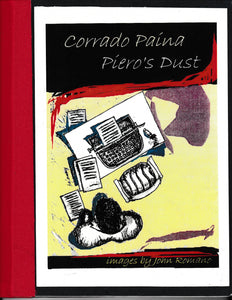 LyricalMyrical Press
Piero's Dust by Corrado Paína
Píero's Dust is a book of short fiction by Corrado Paína, with illustrations and an original print by John Romano. This limited edition artist book was made by hand by Luciano Iacobelli under his LyricalMyrical imprint in Toronto in 2004.
Sex, decay, death, art, and the absurd. These are what you will encounter in this haunting book created by a constellation of Italo-Canadian stars in Toronto's  art and literature firmament. 
First leaf is stencilled and is pasted at top to second leaf. Original artwork by John Romano is pasted at back.
47 unnumbered pages. Blue cloth with red cloth spine. Shelf wear, possibly as a result of artist/publisher's method of repurposing discarded books for parts (i.e., covers). Clean and nice inside. 9" W x 11" H.
This is copy 28 of 30. Signed by Corrado Paína and initialed by Luciano Iacobelli. Came to us from the hand of Luciano Iacobelli.
UBSL-00500.E001.P001.R30
ISBN 0-9734901-8-7
COLLECTIONS (as of April 21, 2019): Thomas Fisher Rare Book Library (University of Toronto), University College Library (University of Toronto), Library and Archives Canada, Clara Thomas Archives and Special Collections (York University), Harvard College Library.
---
More from this collection