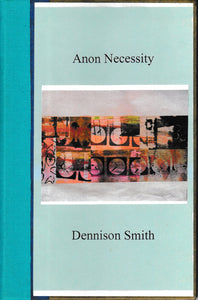 LyricalMyrical Press
Anon Necessity by Dennison Smith
In Anon Necessity, Smith offers personal poems that dine on the role of language (and, inevitably, silence) in relationships, whether those relationships be with God, family, lovers, time, or sex itself.
This is a handmade book, made by Luciano Iacobelli under his LyricalMyrical imprint. Rear bound endpaper: "This is a Lyricalmyrical handmade Book" Number left blank. Recycled green boards (hence some wear and character) with teal cloth spine. Inside clean. Cover image "Clocks" by Oceana Masterman-Smith. Provenance: acquired from Luciano Iacobelli.
Dennison Smith is a poet, playwright, novelist (The Eye of the Day [Harpers Collins Canada, Periscope]), and art curator (founder and creative director of The Baldwin in London, England).
37 p. ; 23 cm. 
ISBN 9781897275399
PS 3569 .M524 A76 2007
Collected at: University of British Columbia Library, Université d'Ottawa.
---
More from this collection