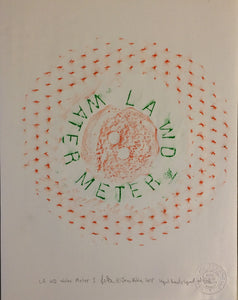 Jens Kohler
LA WD Water Meter 1
LA WD Water Meter 1 by Jens Kohler, 2018, is an original work on paper.
Crayon (frottage) on 11x14 Strathmore Vision 50lb sketch paper. Urgent Beauty Squad edition. Signed by Jens Kohler and with Urgent Beauty Squad LLC corporate seal.
Artist Statement: "I love finding messages and meanings imprinted and embedded in sidewalks and streets of Los Angeles. Look down and you may see contractor stamps from the nineteen twenties, 1980s declarations of fealty to Led Zeppelin or some other beloved, manhole covers, gas/water/phone company meter covers and hardware… really all kinds of concrete history. I crouch down on the sidewalk as people walk around me to capture (literal) impressions of the city at a moment in time using frottage. Reconnecting with the media of my childhood (crayons) gives me a sense of immediacy and fun as I interact with the reality of our urban infrastructure. I like the evidence of grit and grime on the pristine paper and the way the paper is embossed and debossed by the ground it has touched."
A great way to take a piece of L.A. home with you.
Comes in a crystal clear bag with backboard.
---
More from this collection