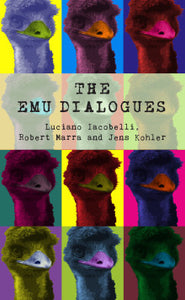 Quattro Books
The Emu Dialogues
The Emu Dialogues is a book of poetry by Luciano Iacobelli, Jens Köhler, and Robert Marra.
Intense wordplay. A wild mix of poetic styles, including: collaborative poetry dialogues (between Iacobelli and Kohler, between Iacobelli and Marra), standalone poems by Iacobelli, Kohler, and Marra (Marra's being concrete poetry that is both word and visual art).
First edition, first printing.
Quattro Books (Toronto) first edition. Paperback.
Written in Canada and USA. Edited, designed, and printed in Canada.
Dimensions: 7" x 9"
174 pp., paperback, perfect bound
Legible spine? Yes.
The official description gives a flavor of what to expect: "Emu is a literary cult named after a bird improvised from the spare parts of other birds, a bird that never flies because flying is a cliché. EMU is HE IS ME AND I AM YOU spoken at the speed of light. EMU is literature's barbershop, where Dadaism, Surrealism, L-A-N-G-U-A-G-E get their weltanschauung trimmed and catch up on the latest sports gossip. The Emu Dialogues is a book for anyone who was ever asked the question: 'why is an Orange?' and answered 'because ice cream has no bones!'"
ISBN 978-1-927443-81-1
A Night of Emu: short film about The Emu Dialogues book launch in Toronto
Collections include: Los Angeles Public Library, Harvard College Library, Stanford University Libraries, University of Denver, Texas Tech Libraries, University of British Columbia Library, University of Houston, University of Chicago Library, McMaster University, Library and Archives Canada, Syracuse University, Université d'Ottawa, Toronto Public Library, Library of Congress.
Return Policy? ALL SALES ARE FINAL, thank you.
---
More from this collection